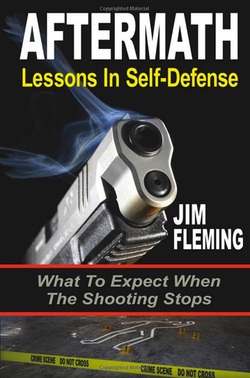 AFTERMATH: Lessons In Self-Defense
"What To Expect When the Shooting Stops"
_____________________________________
This book is written by author/trainer, Jim Fleming.
Before you venture out into the public armed, have you taken the time to consider the consequences of your involvement in a deadly force encounter? If it does happen, after the smoke has cleared, then what do you do? Instructor, Jim Fleming
is a former police officer, practicing attorney at Fleming Law Offices with 32 years experience in handling criminal trials and civil litigation, has served as an expert witness for other attorneys in more than a dozen homicide and firearm related cases. This class informs you of the legal aspects of a self-defense shooting and what to expect when the shooting stops.
TOPICS INCLUDE:
The immediate Aftermath –
Maintaining Safety and Security
, Contacting Law Enforcement,
Maintaining Crime Scene Integrity
, Contacting Legal Counsel
, Physiological and Psychological Issues
, Dealing With the Police
,
Arrest, Custody and Charging
, Dealing With Family, Friends
and Acquaintances
, Dealing With the Media
, Working With Legal Counsel,
The Criminal Process, Potential Civil Consequences
and more. As an author, Jim Fleming's broad mix of careers has provided him with both the background and experience to provide some useful guidance to you, an individual who may be called upon to use a weapon in self-defense, at some point in your life.
What do you say, to whom, and when? How do you deal with neighbors, friends, your own family, the media, the police? How do you protect yourself legally in the ongoing battle to protect your life and liberty? As a former police officer and practicing criminal defense attorney you'll receive information on the legal aspects of a self-defense shooting. Jim is one of a very few people in the United States with the unique breadth of experience necessary to address the issues knowledgeably. You need to read this book!
ADDITIONAL BOOKS by author Jim Fleming > READ MORE
---
For more information about the book written by Jim Fleming visit the AFTERMATH website >>