Recommended Resources: Website Links – Podcasts - Blogs

Minnesota Permit To Carry A Pistol Application
- Visit the BCA website to download the PDF to your computer so you can print the application (Revised 2015).


MN Permit to Carry FAQs
- These FAQs are for information purposes only. Further clarification of the law may be addressed by referring directly to Minnesota State Statute 624.714. This web page provides a quick over view of the most commonly asked questions relating to Minnesota Permit to Carry A Pistol.
Armed Citizen's Legal Defense Network (ACLDN)

Do you worry about the aftermath of a self-defense shooting? The Network;s goal is to prevent miscarriages of justice through education and networking with qualified legal professionals.
The ACLDN Members Journal
a mix of education and news from the Armed Citizen's Legal Defense Network.
CCW Safe
- a legal service membership plan (not an insurance product) that was designed for CCW permit/license holders and law enforcement officers.
Attorney Jim Fleming, lead instructor at Mid-Minnesota Self-Defense, serves on the legal panel for CCW.USCCA
–
United States Concealed Carry Association
. Through USCCA Law LLC and its Law Network, affiliated attorneys provide members with legal advice on self-defense shooting incidents.
Attorney Jim Fleming, lead instructor at Mid-Minnesota Self-Defense, is an affiliated attorney for USCCA.
Minnesota Gun Owners Civil Rights Alliance
- Their mission includes: 1.) To educate the general public, gun owners, public officials, academics, and the media on issues related to Second Amendment rights, gun ownership, gun use, gun technology, and public policy, and 2.) To place public officials and institutions on notice, and if necessary, to pursue litigation to compel them to respect the civil rights of law-abiding gun owners.
The Polite Society Podcast presented by the Firearms
Policy Coalition.
"An armed society is a polite society..." and this is the Polite Society Podcast who support and report on civilian self-defense.
Take a listen online >> PODCAST.
Fleming Law Offices - Attorney James B. Fleming
Attorney, James Fleming has a focus area in criminal defense and self-defense shooting cases. When you need qualified representation by an attorney who understands client needs specific to these practice areas, contact Fleming Law Offices for a Free, no-obligation one hour consultation for new clients, call FLEMING LAW OFFICES at: 763-291-4011 or visit the website:
JimFlemingLaw.com
Second Amendment - Written by Jim Fleming
Self-defense viewpoints and discussion of the Second Amendment.


Massad Ayoob's Blog
- Written by Massad Ayoob, this blog provides great dialogue about self-defense shooting from a qualified expert in the field. His direct address of the issues will educate and inform.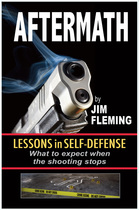 Books on Self-Defense
Aftermath: Lessons In Self-Defense by author Jim Fleming
This book will help you understand many aspects of a deadly force encounter. Before you venture out into the public armed, have you taken the time to consider the consequences of your involvement in a deadly force encounter? If it does happen, after the smoke has cleared, then what do you do? This book will help you to understand what to expect when the shooting stops. What do you say, to whom, and when? How do you deal with neighbors, friends, your own family, the media, the police? How do you protect yourself legally in the ongoing battle to protect your life and liberty?
Order AFTERMATH the book at Amazon today!
---

________________________________________________________________
MID-MINNESOTA SELF-DEFENSE, INC.

PO BOX 1569 • MONTICELLO, MN 55362 • USA • OFFICE PHONE: 763-614-6195
Successful completion of MMSDI instructional training for Basic Handgun as Self-Defense assists with the application for a Minnesota permit to carry a pistol with classes held in Monticello, MN. Note: Minnesota residents may take this class as a qualification for their MN Permit to Carry application. We have students seeking their Minnesota Permit to Carry through this handgun class who are from Monticello, Big Lake, Becker, Buffalo, St. Michael, Albertville, Otsego and the surrounding Minneapolis and west metro areas to name a few. Ask us about bringing MMSDI gun training to your location for private self-defense handgun and shotgun instruction held in Wright County, Sherburne County, Stearns County or out state Minnesota.
Website by
www.DesignforPrintandWeb.com